We know it's not December yet but we've already started thinking about Christmas traditions and planning for December….
In our experience, parents of younger children can be grouped into the following categories:
Parents who have never heard of Elf On The Shelf
Parents who have heard of it but have chosen not to embrace it
Parents who have heard of it, embrace it but keep it simple
Parents who have heard of it and embrace it and have turned it into an actual job for the month of December!
At STAG HQ we have a parent from two of the above camps. Kathryn made a very wise decision a few years ago to opt out of this modern Christmas tradition. She knew that making a commitment to moving an elf around every night would not fit in with her already crazy December calendar of Christmas things to remember, attend and prepare for. I however, decided to dive in with both feet having been inspired by a friend of mine on Facebook who was documenting her Elf on the Shelf antics. There have certainly been times where I have regretted doing so – like when I remember that I haven't moved the elf in the middle of the night, or when I am completely out of ideas, but I have to say that I absolutely adore doing it and look forward to the month of December. I would also definitely say that I enjoy it more than my girls seem to as well but hopefully they'll look back at the photographs one day and appreciate the effort?! They will right??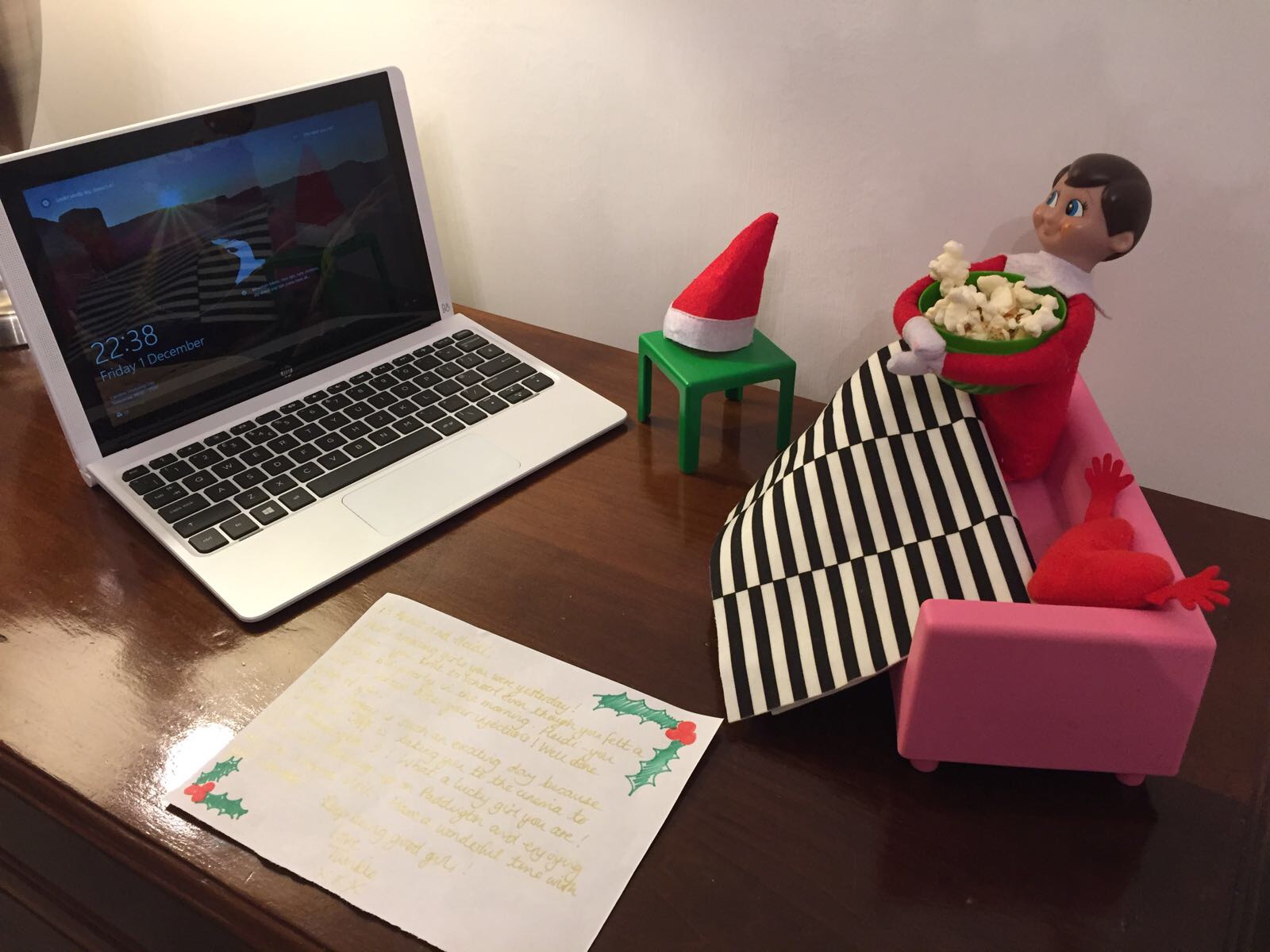 So whatever camp you're in, I thought it would be nice to share a few of my personal tips for anyone needing or wanting inspiration. If you've been an Elf on the Shelf convert for years or if you're just thinking of starting the tradition this year, then hopefully you'll find this blog helpful – maybe you could post your own inspiring photographs on the STAG Facebook Chat Group during the month of December?
Top Tips for 'Elfing':
Plan ahead – I know it sounds ridiculously organised but I always start by mapping out what we have going on as a family every day in December (Nativities, Santa visits, play dates etc) and then try to think of themed ideas to match those days. I then think of other ideas and drop them into my calendar. I use this planner very flexibly but it ensures that there are very few evenings when I am stuck for what to set up.
Think about themed days. Do you have a Christmas outing or treat planned? You could set up an elf scene based on that (eg I made a little pantomime stage on the day we went to a panto a couple of years back)
Make use of your children's toys – I get new inspiration every year as my children's toy collection evolves.
Pinch ideas and inspiration from everywhere – Google and Pinterest have so many inspiring pictures (many of which I've used before).
There are key activities that I plan in every December that our elf sets up for the kids: Christmas crafts, Christmas breakfast, Christmas card making, letters to Santa, tree decorating, Christmas film day etc.
Decide how many days you're willing to commit to this for – I always do the whole month of December but I have friends who do the two weeks leading up to Christmas or even the week leading up to it.
Don't compare the way you do it to anyone else. There are loads of different types of elves out there (at different prices) and everyone has their own way of doing it. Some families go down the naughty elf route, others have their elf appear now and again, some love it, some hate it!
Happy 'Elfing' Mumblers and I know it's early but have a fantastic December!
Caroline x x