It lets you search for things like nappies and wipes, by brand or size and it will tell you how much these items are in  a wide range of stores, ensuring you can quickly find the cheapest options, saving you money month on month.
We know only too well, how hard it can be knowing what on earth to pack in those hospital bags, so we've been out and about talking to lots of mummies and daddies to create you a list of lots of super recommendations.
Remember: Don't leave it until the last minute to pack your bag, you could be taken in at any point and the last thing you want is to be rushing around trying to find things when you're just about to give birth.
For Mum
Maternity notes and birth plan – keep them with you at all times.
Glasses or contact lenses and solution.
Comfy clothes – Once admitted, you could be in hospital for a while, so it's great to have something comfy to wear.

Nightie and dressing gown – While you may prefer PJ's, a nightie will be easier.
Slippers or bed socks.
Eye mask – it can help you sleep during the day.
Towel – while you will be provided with one if needed, it's nice to have your own. A flannel can be handy too.
Pillow – while you will be provided with a bed and pillow if you need to stay in, after having our first child, we just couldn't sleep properly, my mother in law brought in a lovely fluffy pillow and I slept brilliantly.
Something to read – either a good book or magazine, or load your iPad up with your favourite films or download your favourite programmes if you have something like Netflix.
Snacks – while you will be fed during your stay, it's always nice to have a few non-perishable snacks to munch on if you get hungry.
Toiletries – Deodorant, hair brush, bobble or clip, dry shampoo or normal shampoo and conditioner, toothbrush, toothpaste.
Nipple cream (this can also double up as a great lip balm if needed).
Handheld fan can be good, it can get very warm in a hospital.
Lip balm – it can get very dry in the hospital, so it's good to have something to keep you moisturised.
Scented moisturiser – this may seem a strange one but after we had given birth, we were told we could have a bath, however we couldn't have anything in it. After getting out we didnt feel that lovely clean feeling you get from a normal bath, so we covered ourselves in a nice scented moisturiser, which made us feel lovely and clean. Note: We didnt rub this around our chest area as we knew it was important for baby to smell mummy's skin.
Underwear – A comfy bra or nursing bra and plenty of big pants. Your tummy may stay large for a long time and you'll also need to wear maternity pads, so ensure you have big pants that you'll be comfy in. WARNING – it is highly likely these pants will become your new pants for life! Once you go big and comfy, it's hard to go back.
Super absorbent maternity pads and breast pads.
Dirty washing bag.
Big shoes for going home in – Your feet and ankles can swell a little and you may find you can't get the footwear you arrived to the hospital in, back on your feet, so have something looser and easy to slip on.
Any medication – if you are taking any.
Phone and charger for all devices.
A notebook – this may seem a strange suggestion, but we took one in with our second birth. As we sat watching our little one sleep, we wrote in the notebook, making notes of what they looked like, how we were feeling, we thought it would be a lovely memory and something nice to share with them when they were older.  It can also come in extra handy if the midwives or doctors give you anything to remember. Write it all down as you will probably have the most terrible baby brain.  You can also make notes of what time baby was fed, how long they have slept etc. You can also use the notebook to write down the number of family members, just in case there was a problem with your phone, you can also write down things such as hospital visiting hours, car parking charges/rules etc.
"Pack a 'back up' or extended stay bag. I must of had a sixth sense but I packed a second bag of extra clothes etc for me and baby and left it at home (in a really obvious place). It meant my then partner could just grab the bag on day three when I was running out of things and bring it into the hospital for me. (I was in 5 days in the end.)
It meant I didn't have to try and explain what I needed, where it was in the house, what I meant by 'the blue comfy pj bottoms' and the 'long sleeved baby vests' etc etc."
LG, Local Mumbler
For Baby
If travelling by car, you are required by law to have a newborn car seat fitted.
Nappies – make sure you have plenty, you'll be amazed how quickly they will get through them.
Cotton wool – it's recommended to use cotton wool and tepid warm water instead of baby wipes during the first couple of weeks.
Baby grows and a nice hat to keep them warm.
Scratch mittens – to stop them scratching their face. You can buy baby grows with built in scratch mittens.
Muslin cloths – great for popping over your shoulder to catch any sick.
Formula and bottles if you have chosen not to breastfeed.
Something warm or a blanket to cover them when going home.
For Partner
Change of clothes, you may be there for a while.
Deodorant
Snacks
Bank card and loose change to leave in the car in case you need it for the car park or for the food vending machines.
Something to read or watch.
Pillow – you may be able to have a little doze in the chair if needed.
Phone and charger for all devices.
Medication if you are taking any.
Music,  especially any birthing music mum may need.
If you think there's anything missing from this list that you found helpful in your hospital bag, please do tell us at stag@mumbler.co.uk and we'll ensure it's added to the list.
This website is provides lots of useful information and advice for all pregnant women during the coronavirus pandemic.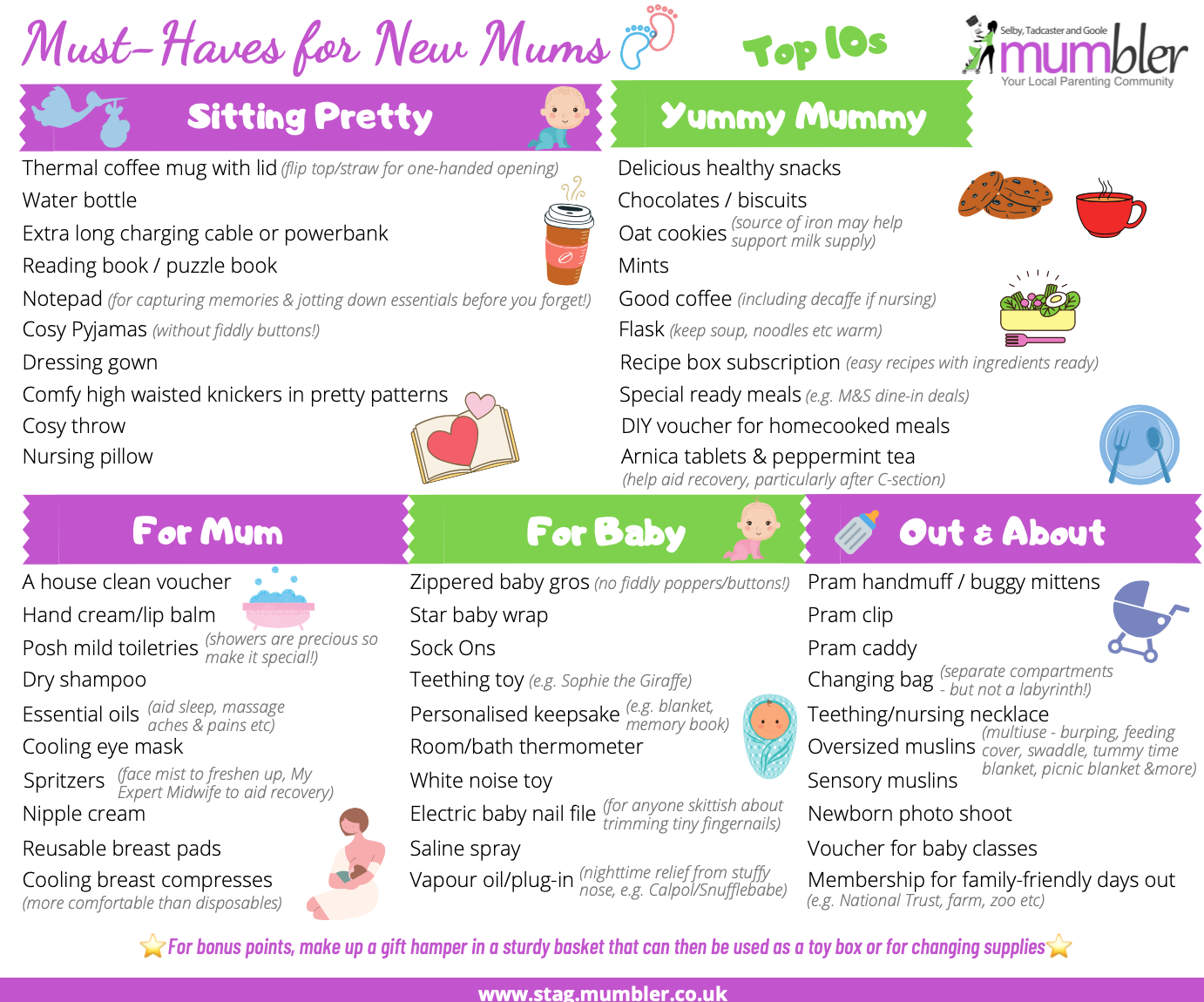 With special thanks to our sister site, Gateshead Mumbler, for these super ideas. 
Yorkshire Baby Scan is a team of experienced health care professionals that provide antenatal ultrasound scans and tests for your peace of mind throughout pregnancy. Our service is led by Consultant Obstetrician Dr Jacqueline Tang and is run by our two Advanced Obstetric Sonographers. Our team has been handpicked for their experience and expertise and our focus is on the medical side of your pregnancy. Our aim is to give you the reassurance that your baby is happy, healthy and is growing as expected.
We are based in York and are located in David Lloyd on Hull Road.
We offer a range of services including early pregnancy scans, dating scans, anatomy scans, growth scans, presentation scans and the NIPT test which screens for Down's syndrome, Edward's syndrome and Patau's syndrome. We also offer gender scans and 4D scans, where you'll be able to see your baby moving on our large screen.
You can bring a partner, friend or family member with you to your scan and we will give you a medical report and 4 printed images for you to take away. We also offer an upgraded package where you will receive all electronic copies on a USB stick.
T: 01904 413669
E: info@yorkshirebabyscan.co.uk
Established in 2006 (midwife taught), providing all the information needed to prepare for the birth of your baby. Empowering couples to make the right choices for the calm relaxed birth everyone wants. Group and individual courses available. All held in the comfort of a lovely country house in a small village just off the A64. Refresher courses and 1:1 session available.
T: 07977 505 269 (Val Readman)